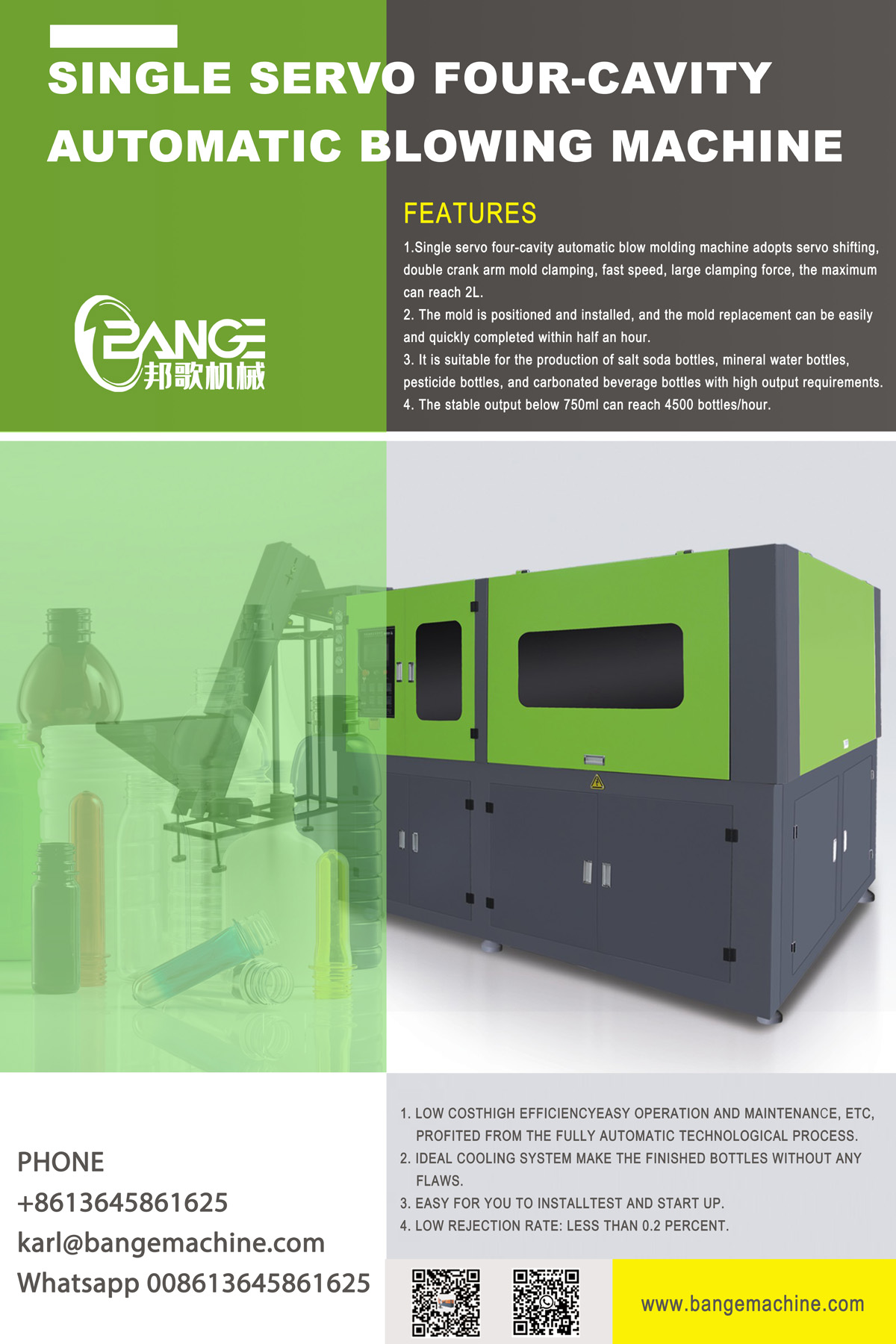 Machine Features:1: The single-servo four-cavity automatic blow molding machine adopts servo shifting, double crank arm mold clamping, fast speed, large clamping force, and the maximum can reach 2L.2: The mold is positioned and installed, and the mold...
1. Full-servo high-speed blowing machine is currently my company's most advanced, fastest model.2. Clamping, stretching, displacement are driven by servo motor.3. With high speed, high precision, good stability, energy saving, environmental protection...
Linear blowmoulding for speeds up to 8,000 bph from single to four cavities moulds.Single or coupled machines.Rotary blowmoulding for speeds above 8,000 to 40,000 bph from 8 to 20 cavities. Single or coupled machines.in line blowmoulding and filling f...
We are an excellent manufacturer and supplier of the blow molding machines in china, combined with research development, design, manufacture, and sales, with advanced equipment, strong technology, and a top-down management team, high quality products ...
Our company adopts advanced bottle-making technology to develop a bottle blowing machine. This machine has the characteristics of automation, intelligence, stable and reliable machine performance, simple structure, high production efficiency, low ener...
With over a decade of manufacturing experience in the automatic PET blowing machine industry, we are confident with our high-quality products helping you achieve your company goals. Allow Borg Machine to supply your bottle-making machine requirements ...
Model: Fully PET Automatic Blowing Machine Product possible: PET bottle Max. product volume:2L PET BOTTLE MOULDPET Bottle Blowing Machine Bottle Making Machine Bottle Moulding Machine PET Bottle Making Machine is suitable for producing PET plastic con...
Plastic wide-mouth bottle blowing machine is a specialized equipment specially designed for large-diameter PET bottles. The wide-mouth bottle blowing machine is especially suitable for the production and processing of large-diameter bottles with a dia...
A wide variety of PET containers (such as bottles, jars, jerrycans, drums, pressure vessels,Mineral water bottles) can be produced on Bangge machines. Mold bottles from 20ml to 120 liters and everything in between. Satisfy the market's needs with a h...
This linear bottle blowing machines are used in the production of PET water bottles, hot filling bottles, carbonated beverage bottles, edible oil bottles, and pesticide bottles.linear bottle blowing machine stretches preforms by using a servo motor-co...