Full-Auto Bottle Blowing Machine(0.6L-2L)
2L 6-Cavity Automatic Pet Water Bottle Blow Moulding Machine
BG-2000 Full-automatic PET bottle blow molding machine is the most stable two-step automatic stretch blow moulding machine.PET bottle blowing machine has two cavities to six cavities and the maximum volume of the products is 2000ml. the speed is 1250 bottles per hour per cavity (based on 500ml bottle).
1. Low costhigh efficiencyeasy operation and maintenance, etc, profited from the fully automatic technological process.
2. Ideal cooling system make the finished bottles without any flaws.
3. Easy for you to installtest and start up.
4. Low rejection rate: Less than 0.2 percent.

---
Product Description

Features of main body:

1. Stable performance with advanced PLC.
2. Automatic preform conveyer to save human cost.
3. Preform self-rotation and infrared pre-heater revolution assure the even distribution of heat, which improve the bottle shaping rate, increase the production.
4. High adjusting performance to enable preheat the preforms perfectly by adjust the voltage control area in the PLC, which could adjust the temperature of the infrared lights in the pre-heater, and keep the proper temperature and humidity invariable.
5. High safeties with security automatic-locking device in each mechanical action, which will make the production into a perfect safe environment, in case of the breakdown in certain procedure.
6. Introduce the FESTO air cylinder to avoid contamination and noise.
7. Satisfaction with different atmospheric pressure for blowing and mechanical action by dividing the blowing and action into three parts in the air pressure diagram of the machine.
8. Strong clamping force with high pressure and double crank links to lock the mould.
9. Two ways of operating: Automatic and manual.
10. Safereliable and unique design of the position of valve to make the pneumatic diagram in the machine easier to understand.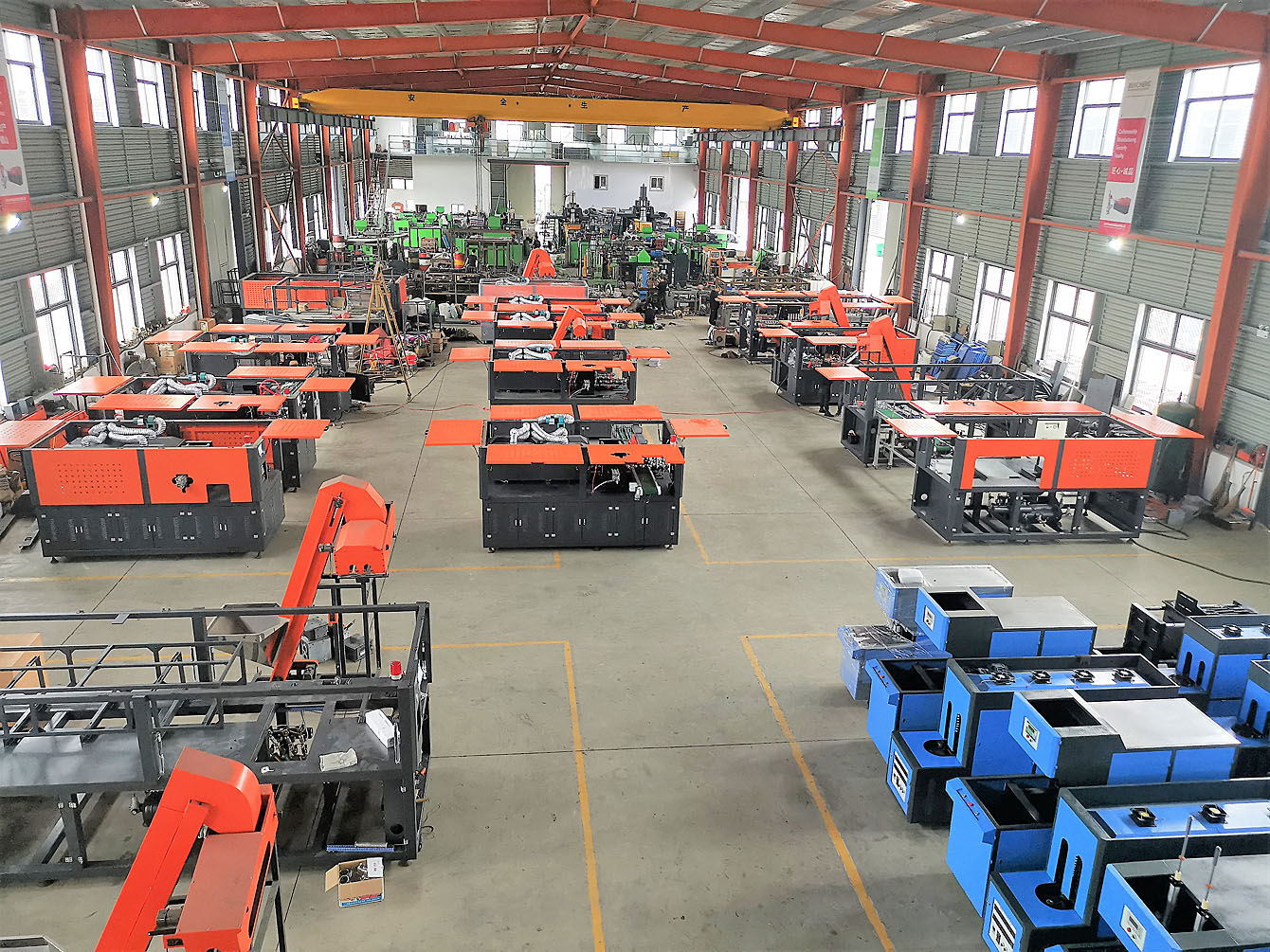 TYPE
ITEM
BG-2000-2
BG-2000-4
BG-2000-6
Product parameters
Production capacity
2000-2500pcs/hr
4000-4500pcs/hr
6000-6500pcs/hr
Max.volume
2.0L
2.0L
2.0L
Max.neck size
38mm
38mm
38mm
Max.diameter
110mm
110mm
110mm
Max.height
320mm
320mm
320mm
NO.of cavity
2
4
6
Power specifications
NO.of lamp
32pcs
40pcs
48pcs
Max.heating power
64kw
80kw
96kw
Total machine power
64kw
80kw
96kw
Actual power consumption
12kw
16kw
20kw

Air pressure specifications

Working pressure
0.7-0.9Map
0.7-0.9Map
0.7-0.9Map
Low pressure gas consumption
1400ltr/min
2000ltr/min
2500ltr/min
Blow bottle pressure
3.5Mpa
3.5Mpa
3.5Mpa
Hig pressure gas consumption
3500ltr/min
5000ltr/min
6500ltr/min
Cooling water specifications
Chiller pressure
0.3-0.5Mpa
0.3-0.5Mpa
0.3-0.5Mpa
Temperature range
10℃
10℃
10℃
Consumption
30L/Min
40L/Min
50L/Min
Appearance specifications
Machine size
3.2*1.6*2.0cm
4.5*1.6*2.0cm
5.5*2.1*2.2cm
1.Cooperated Brand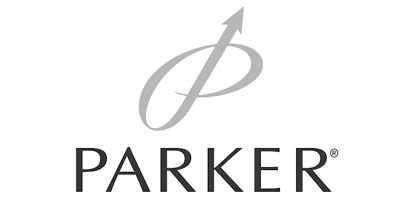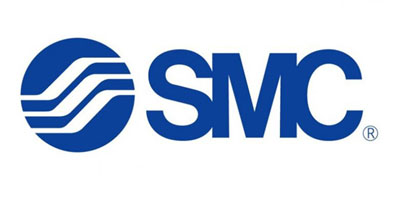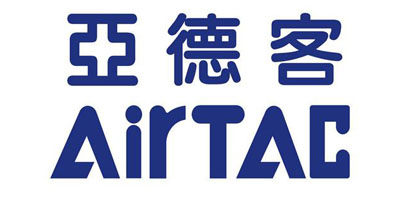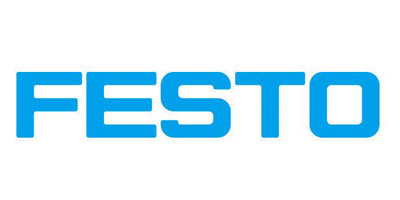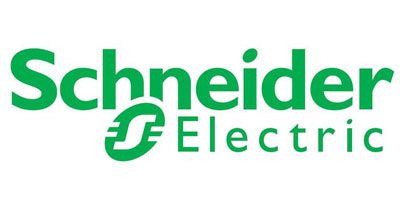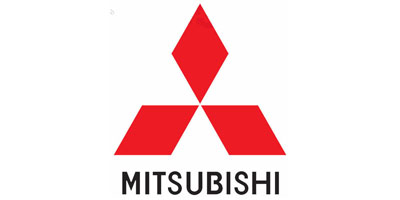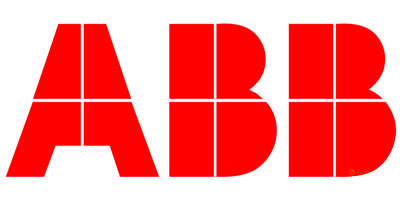 2.MAIN COMPONENTS
Private server host.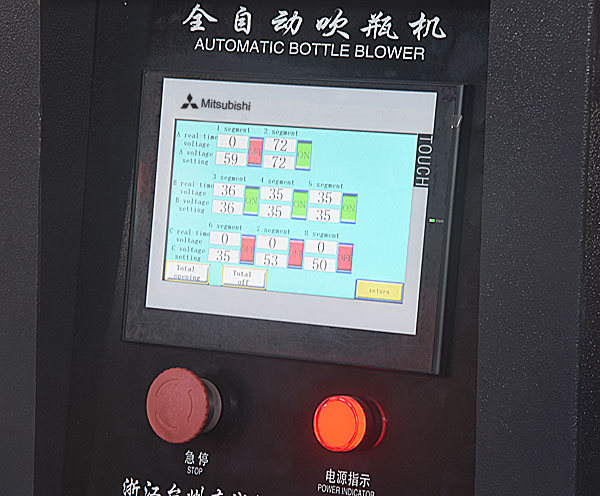 PLC control Brand: Mitsubishi Option Brand: Siemens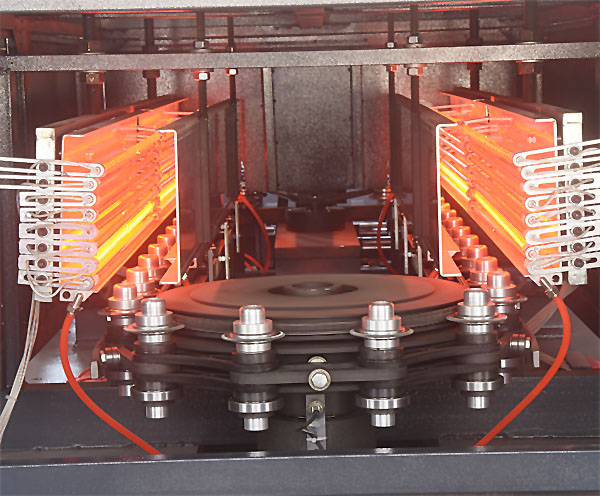 Infrared heating lamp tube Ruby Lamp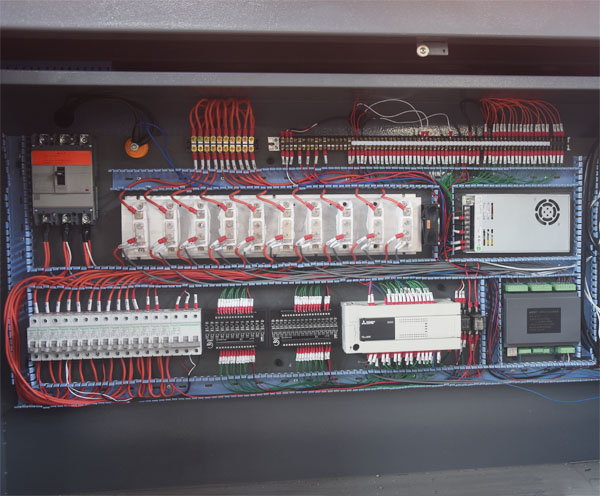 Central Processor.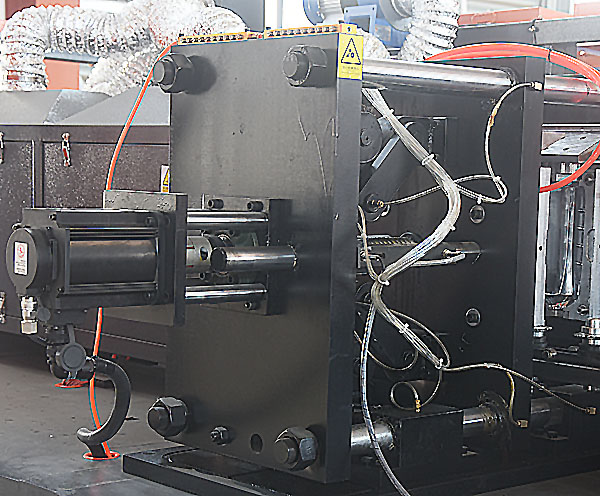 Mold lock.--Servo motor system
Cylinder MSC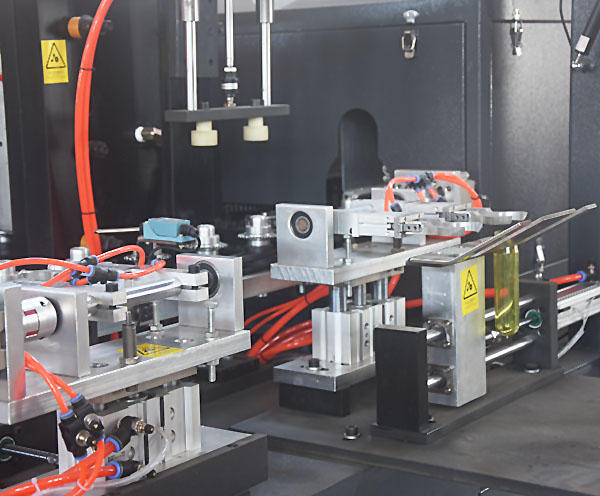 Flip the cylinder,festo...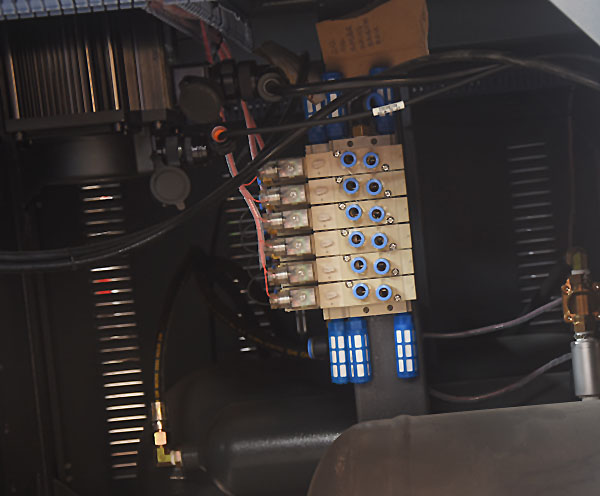 Blowing vale Fisto..
---